Cappuccino is a nice cafe with a huge variety of coffee drinks.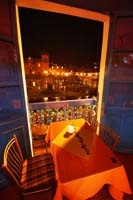 Portal Comercio 141
Cusco
Peru
Facebook page for Cappuccino Café
A nice cafe with a huge variety of coffee drinks. (5/5)
While obviously made for tourists, it has some fairly major advantages over the Starbucks that is across the plaza: A wide variety of drinks (this includes beer), nicer atmosphere, and, well, it isn't Starbucks. The cafe has WiFi that is free to use, and if you, like me, still haven't bought a smartphone, there are computers you can rent (I never tried this).
The coffee drinks are served in an artistic way, with coffee, milk, foam and cream nicely layered inside the glass. Together with the colorful interior, one gets some very nice vibes from this place. Posters on the walls are stamped with the same logo as the café, but with the name replaced by "Café van Gogh" - perhaps a previous name? It would certainly explain the theme of the interior decoration: Colorfully bohemian.
One final note should be made about the "atmosphere" - specifically the relationship of the interior atmosphere of the cafe with the exterior atmosphere of Cusco: Since the doors to the small balconies of the café are open most times, the temperature on the inside is close to the temperature on the outside. I had no problem with this, but if you know that you tend to start freezing before others do, then you should perhaps not seek shelter from the cold here.
Oh, and the alfajores are great, too.